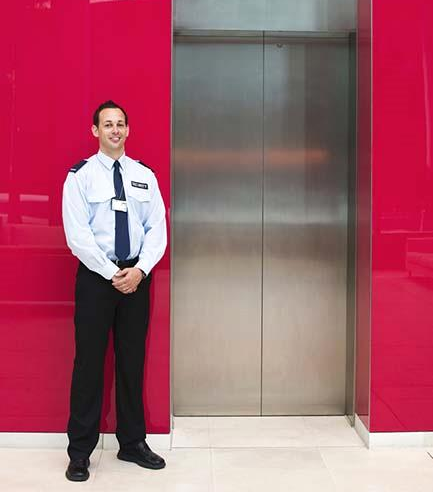 Elevator Access control guards are for granting or restricting access to those users or workers who are authorized to have access to your premises. For high-rise residential buildings and office towers, floor-to-floor elevator control can be used to restrict unauthorized persons or visitors from accessing floors where they have no business. Instead of providing your users or staff with key pads, each elevator is provided with a Security Guard who takes care of the task and secures the elevator from vandalism and controls access to unauthorised floors. Elevator controller guards also ensure that the workers wear safety gear like hard hats, safety shoes etc. while on premises. They also safeguard the elevators from damages while the workers haul materials and tools.
Sriven guards are trained to handle emergency situations in times of elevator break down. Our guards are trained to communicate effectively and inform appropriate personnel about the elevator car number, address, location and number of persons held up in the elevator. They do not panic and also uplift the moods of others held up in the car.
During PDIs, our guards will work in accordance with the time table and guide customers to their respective floors by restricting workers from accessing the elevators. When elevators are booked for move-ins, our guards will operate the elevators in on-service and off-service modes and will also safeguard the elevators from move-in damages.